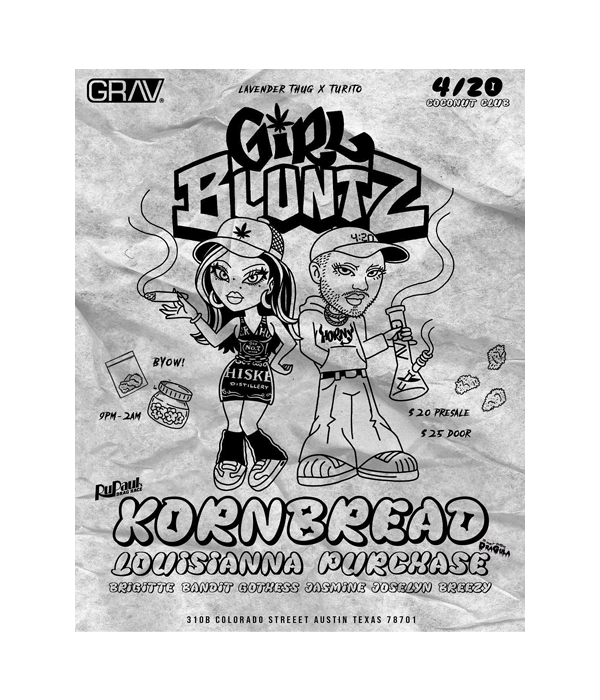 GIRL BLUNTZ
Thursday, April 20, 2023
9:00 PM - 2:00 AM
Coconut Club | 310B Colorado St, Austin, TX 78701
Is you hungry? Get baked with Kornbread for a special Edition of Girl Bluntz Presented by Lavender Thug & Turito and an all-star cast of Texas Drag Queens. A portion of the night's proceeds will go to TENT(Trans Education Network of Texas). Stop by the GRAV fair to pick up your new favorite bubbler or bong and grab a commemorative girl blunts T-shirt to help you remember what you did on 420! (BYOW, 21+)
GET TICKETS ➔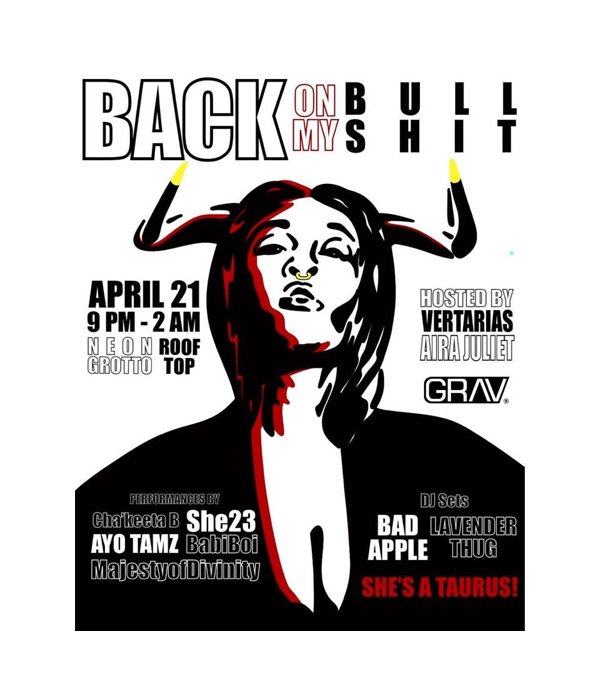 BACK ON MY BULLSH*T
Friday, April 21, 2023
9:00 PM - 2:00 AM
Neon Grotto | 318 Colorado St, Austin, TX 78701
It's TAURUS SEASON!!!! Let's get "Back On My Bullshit" and come celebrate the beginning of Taurus Season and She23's Birthday!

Hosted by the talented Vertarias and lovley Aira Juliet. BANGER DJ sets by DJ Bad Apple & Lavender Thug. And top notch performances by Cha'Keeta B, She23, BabiBoi, Ayo Tamz & MajestyofDivinity!

The first 50 people to buy their tickets will be entered into a raffle to win free products from GRAV and other goodies! Let's rage it out!
GET TICKETS ➔