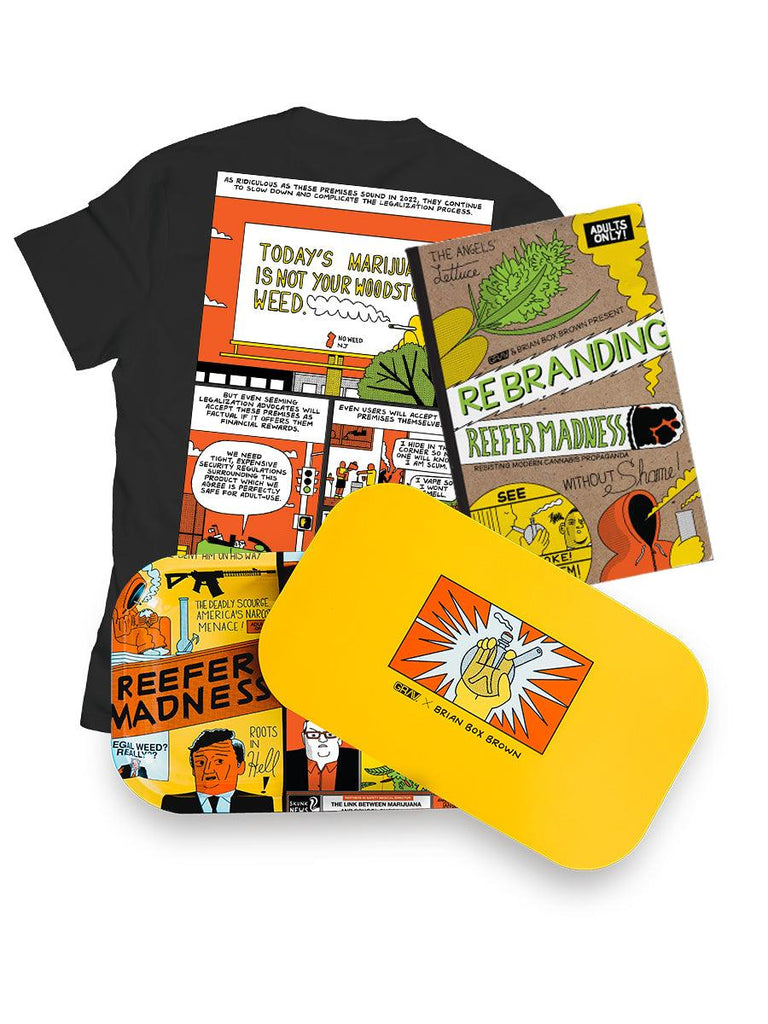 6 MONTH REPLACEMENTS(No matter where you buy)

FREE SHIPPING ON ORDERS $100+

THE HIGHEST QUALITY QUARTZ AND BORO GLASS

EARN LOYALTY POINTS ON EVERY ORDER
PRODUCT DETAILS
Join the campaign to rebrand Reefer Madness with the Box Brown Bundle! This bundle includes a t-shirt, rolling tray, and zine, all featuring the iconic artwork of artist Box Brown. Box Brown and GRAV collaboration is the perfect way to show your support for the fight against the lies and propaganda spread by anti-cannabis politicians and pundits.
The t-shirt is a comfortable and stylish way to display your love for cannabis culture and activism. Featuring Box Brown's powerful artwork, it's a statement piece that will spark conversations and raise awareness.
The rolling tray is a must-have accessory for any cannabis enthusiast. It provides a designated space for rolling up, showcases Box Brown's bold designs, and serves as a daily reminder of the fight for justice and truth.
Finally, the zine included in the bundle is an exclusive publication featuring Box Brown's thought-provoking illustrations and essays that highlight the history and impact of Reefer Madness. It's a fascinating read that sheds light on the sinister motives behind this propaganda campaign and empowers readers to join the fight against misinformation.
1 box, 3 dope items: A t-shirt, rolling tray, and zine.

Designed by Box Brown, approved by GRAV - these collabs are fire.

The rolling tray is perfect for keeping your smoking accessories organized and within reach.

The zine is filled with insider info on the rebranding of Reefer Madness - so you can drop knowledge bombs on your buds.

Show your support for the cause and look fresh AF while doing it.
SPECIFICATIONS