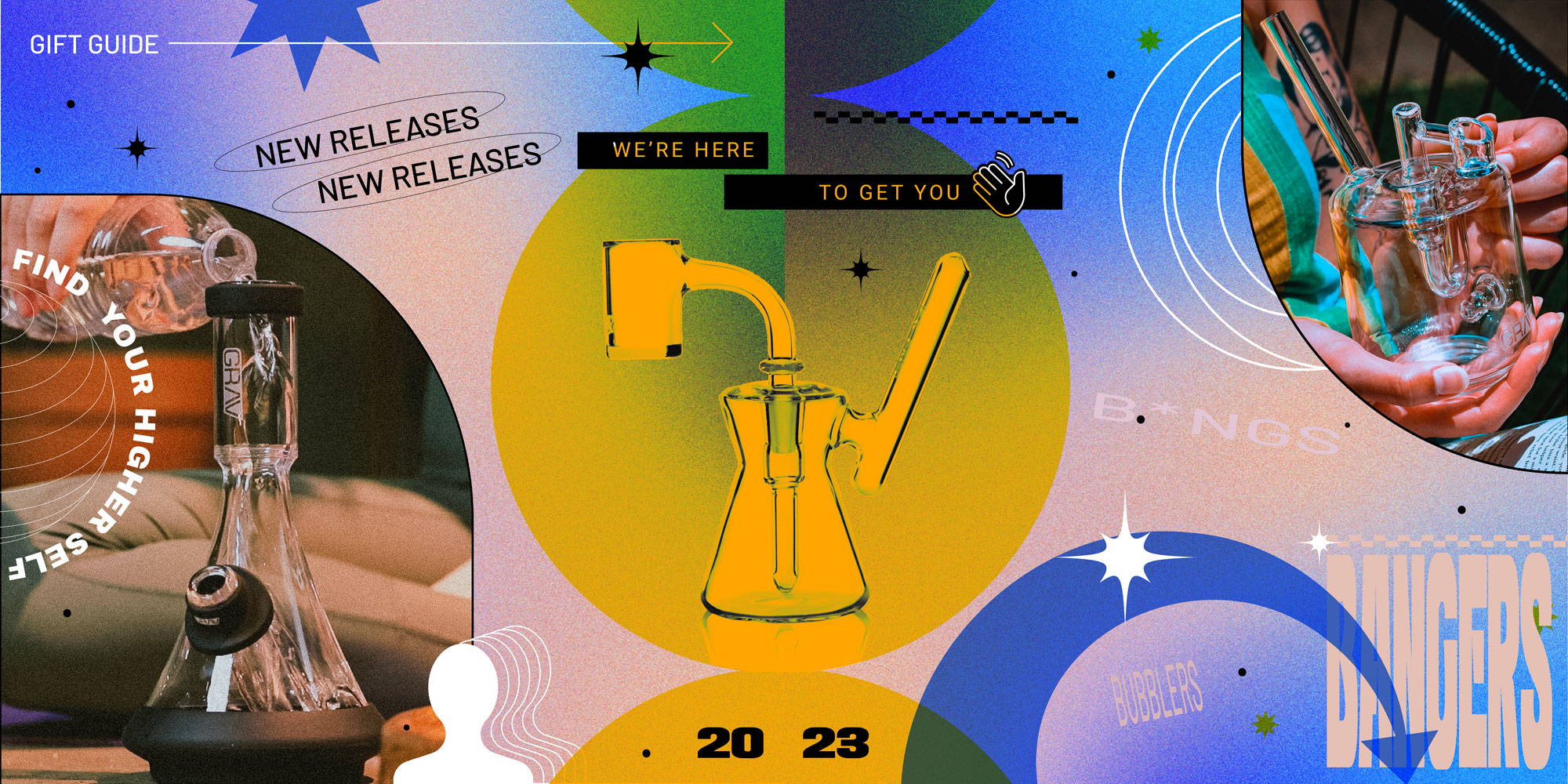 The 2023 GRAV® Gift Guide

Gifts for Your Favorite Stoner (Yourself)
Listen. We all know what's going on here.
We write these gift guides. And everyone pretends that you're going to use them to shop for the stoner in your life. But 9 times out of 10, you're really browsing for yourself. So let's drop the pretense. It's a gift guide. For you. Because you deserve a complete collection.
A dab rig for concentrate days. A portable bubbler for cool hits. A bong with the perfect perc. A hand pipe to keep it simple. And accessories to personalize it all.
Fill in the gaps in your collection with this sweet guide…and find out how to save 25% on your order in the process.
Dab Rigs
If your collection needs a little pizzazz, you're in the right place. Find bongs with impressive designs, complex percs, or massive chambers to generate the clouds you're after.
If your bong collection is stacked, maybe it's time to consider branching out. A new dab rig can introduce you to the world of concentrate…or up your game if you're already a concentrate connoisseur.
GRAV® Eclipse Rig…if you need a mini dab rig
Mini dab rigs are having a moment. These lil monsters are approachable for newbies, but they also pack enough power for frequent dabbers.  
The Eclipse Rig is our first entry into the dedicated mini dab rig game. Standing at a compact 3.5" x 3.5", it sits comfortably in the palm of your hand. A quartz banger is durable enough to withstand the heat of your torch, and an 8-cut perc filters vapor for gentle inhales.
GRAV® Wedge Bubbler…if you want a piece that can do double duty
The Wedge Bubbler comes with a 14mm Cup Bowl for flower. But if you add a 14mm 45° Seamless Quartz Banger, you'll be on your way to dabbing delight.
Rounded corners and a triangle shape are both slick to look at and comfortable to hold. The restricted mouthpiece prevents splashback, and hits are smooth and clean.
Choose from Clear, Amber, Light Cobalt, or Smoke glass to match the rest of your collection.
GRAV® Limited Edition Lavender Globe Rig…if you're into rare glass
The Limited Edition Lavender Globe Rig won't be available for long. A transparent globe and conical perc let you watch the magic within, while an opaque lavender mouthpiece and conical push-in add depth and dimension.
The Lavender Globe comes with a long-neck quartz banger, so you won't torch your pretty new piece while heating the bucket. It's a powerhouse with a 10-hole perc and spacious chamber.
It's a limited release, so get it while we've got it.
Bubblers
GRAV® bubblers come in a range of sizes, from hand-held to ultra-tiny. Add to your collection with these smaller water pieces that cool like a bong (but store away like a hand pipe).
GRAV® Hourglass Pocket Bubbler…if you need a small-scale smokeable
The Hourglass Pocket Bubbler just might be the perfect single-serving water piece. That distinct shape feels great in your hand, with a comfortable grip around the pinched midsection.
A diminutive 3" tall hourglass chamber leads to a 3.25" stem to prevent splashback. Hits are smooth and efficient, just right for a solo session.
Even if you already have a beloved bubbler, this is a dynamite addition to your collection. Comes in five colors plus Clear.
GRAV® Wave Bubbler…if you're after max bubbler capacity
On the other end of the size spectrum from the Hourglass, the Wave Bubbler offers an impressively spacious chamber for a deluge of smoke.
The curved shape both minimizes splashing into the narrow mouthpiece and keeps the lighter far from your face. This is an ideal piece if you like the big gulps of a bong but you want the feel of a bubbler.
It's a simple design that's easy to use, easy to clean, and easy to fall in love with. Comes in Amber, Light Cobalt, and Clear glass.
GRAV® Wobble Bubbler…if you collect unusual designs
We have fun with all our designs. But the Wobble Bubbler is straight up playtime.
The curved downstem is an eye-catching feature with purpose, creating a longer smoke path for a little extra cooling. It ends in a 4-hole perc for a smooth pull. Peek through the glass mushroom top to watch as you clear it.
The unique base design gives this bubbler its name. Rock it on its edge and it will rotate in a 360° circle rather than tipping over. It's like if a fidget spinner and a bubbler had a baby.
Hand Pipes
Beginners and pros alike need at least a couple of hand pipes in their collections. From iconic shapes to durable innovations, these portable pieces are user-friendly in their simplicity.
GRAV® Classic Spoon…if you're starting a new hand pipe collection
The Classic Spoon should be a mainstay in every smoker's collection. It's small, it's simple, it's straightforward. And that's why we love it.
Our spoon has a generous bowl capacity and a small cone-shaped restriction at the mouthpiece to keep ash at bay. It cleans easily, it fits in the palm of your hand, and it's the foundation of a solid hand pipe collection.
Comes in ten colors.
GRAV® 16mm Octo-Taster® with Silicone Skin…if you smoke on the go
Listen up campers, hikers, mountain bikers and backpackers. Extreme sports enthusiasts and extreme picnic enthusiasts. Globe trotters and weekend warriors.  
With an Octo-Taster® with Silicone Skin in your arsenal, you'll always have a ready companion for your adventures. Pre-pack your glass, and slip the silicone cap over the end to keep it in place. The food-grade silicone will protect your piece in your pocket, backpack, or suitcase until you're ready to light up.  
This is a best-seller and a customer all-time favorite.
Comes in six silicone colors.
GRAV® Gandalf…if you like to savor your smoke
The Gandalf may not make you all-knowing, but you'll feel pretty wise when you hold it.
The extended stem creates a longer pathway for your smoke, creating a cooler hit than most hand pipes. The wide bowl is spacious, ideal for long lazy sessions while you mull over the mysteries of the universe.
Comes in nine colors.
Accessories to Up Your Smoking Game
Rolling Trays…if you've got shake all over the place
No one likes a messy smoke station. A rolling tray keeps those little bits contained so you can scoop them up and add them to your bowl (while keeping your table clean).
If you like to store all of your rolling supplies in one place, look for a tray with a lid. Our 2023 Metal Rolling Tray with Magnetic Lid features a 90s-inspired design (so hot right now). And the limited edition Box Brown Metal Rolling Tray with Lid features artwork by legendary cannabis cartoonist Box Brown.

Or check out our melamine trays in two "Find Your Higher Self" designs.
Bowls on Bowls on Bowls…if you like options
Each GRAV® bubbler or bong comes with a bowl. But you can customize your setup by swapping out bowls for higher capacity or different airflow.

The 14mm Caldera Bowl is one of our deepest options. Pack it with up to ½ gram of flower for passing around or an epic solo session.
The built-in glass screen on the Male Octobowl catches ash to keep your bong cleaner longer. Comes in 14mm and 19mm options.

Can't decide? Understandable. With the GRAV® Bowl Bundle, you'll get six borosilicate bowls to swap out at your leisure: a Caldera, a Male Octobowl, a Basin, a Helix, a Cup Bowl, and a Funnel Bowl.
Quartz Bangers…if you're concentrating on concentrate
Heat resistant quartz bangers are the key to clean dabs. Pick up an extra so you'll always have a fresh bucket ready to go. Or add one to your favorite bubbler to convert it into a dab rig.
To really get set up, the 14mm Seamless Quartz Banger Kit includes a 45° banger, three quartz inserts for lower temperature dabs, and a Yo-Yo Carb Cap to control airflow. You'll be dabbing like a pro in no time.
Didn't we promise you 25% off?
Yes we did.
Save 25% on your entire order, PLUS get free shipping, during our massive Black Friday sale from November 23rd through 27th.
Set an alarm. Put it on your calendar. Stick a post-it on your mirror.
Or let us handle the reminders. Sign up for emails or texts from GRAV® so you'll get alerted the second our Black Friday sale goes live.
Just scroll down to sign up for emails. Or text GRAVSMS to +1 (978) 523-2049 for texts.